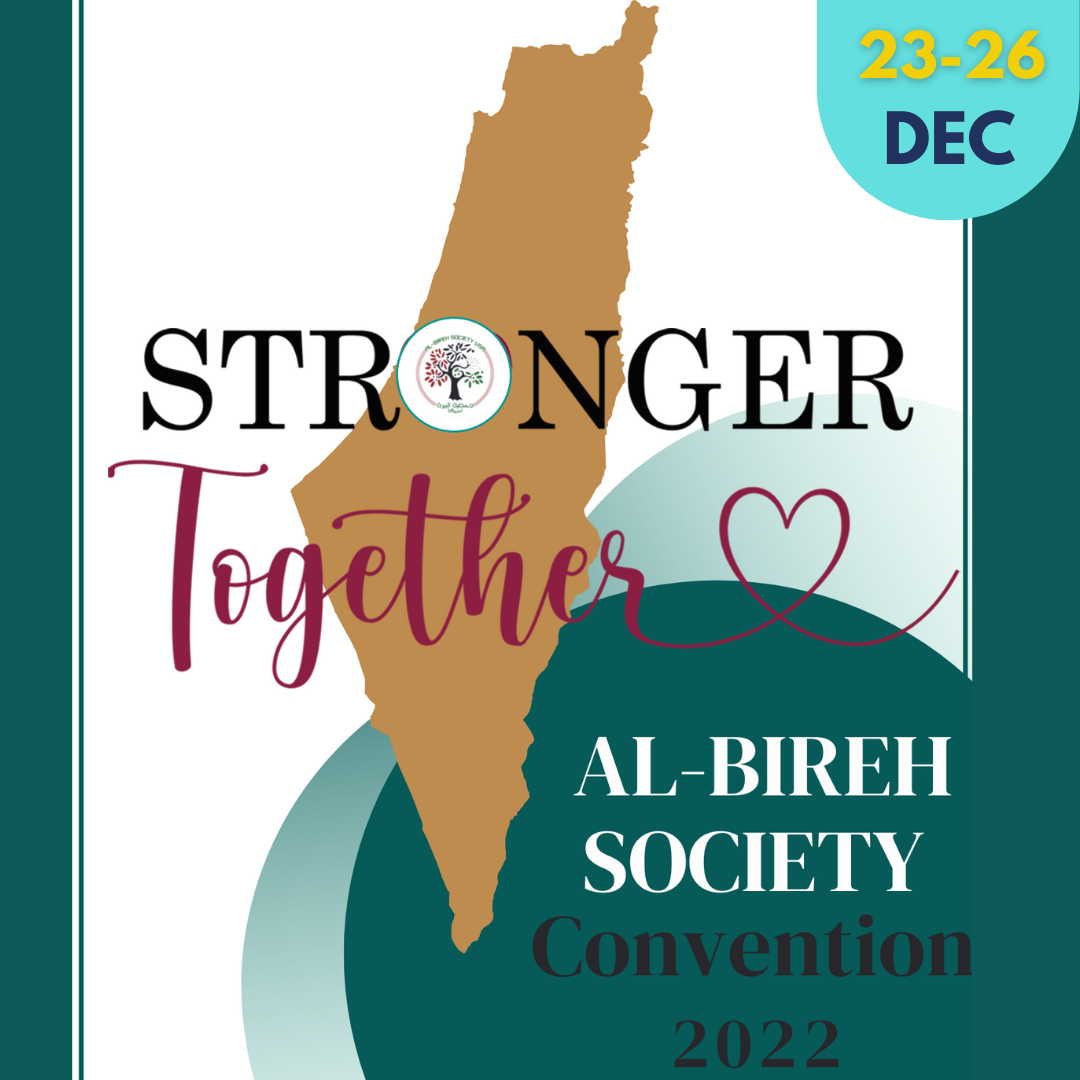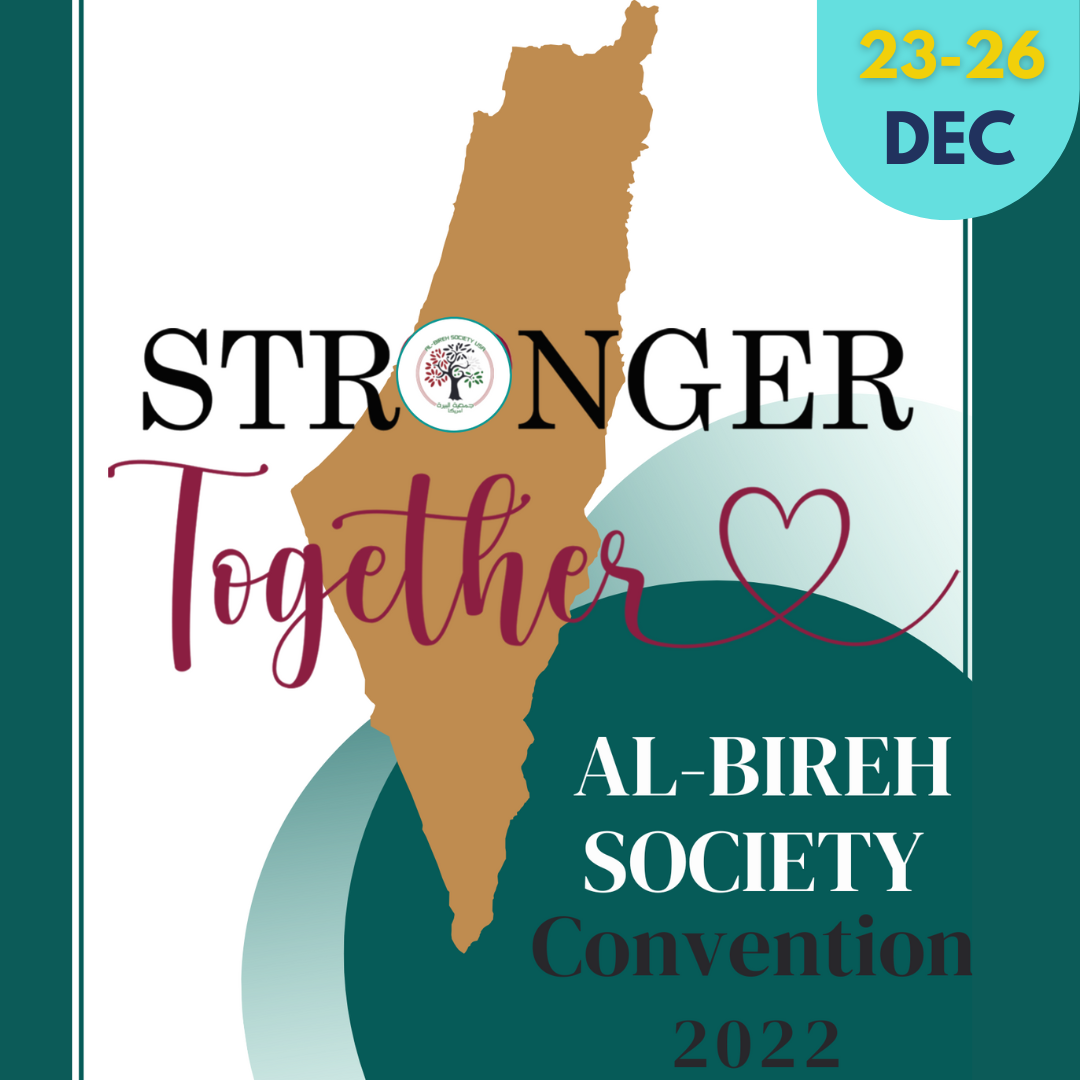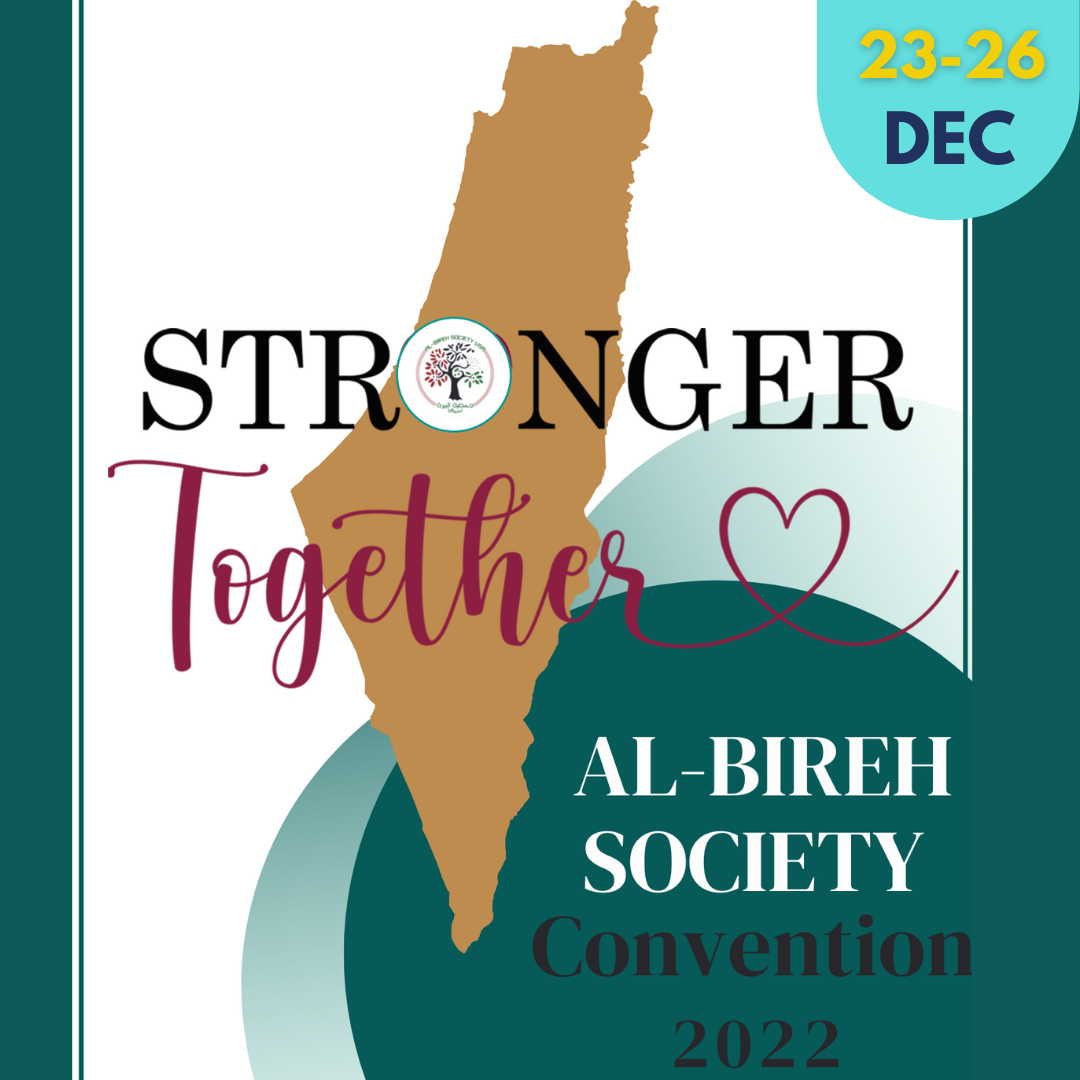 Stronger Together:  Al Bireh Society Convention 2022
See you this week!
We are so excited to be celebrating the Stronger Together Al-Bireh Society Convention with you Dec 23-Dec26, 2022. This email contains final details for the event, but please don't hesitate to reach out with any questions. All attendees should have received a detailed email. This notice is for our entire community. Thank you!  Registration is now closed.
Thank You to our Sponsors
Thank you to the incredible individuals, families and companies that are supporting the Stronger Together Al-Bireh Society Convention and empowering our community to be proud of their identity, culture and beliefs. Our organization is based on the generosity of our community. Everyone is invited to support the ABS in whatever means possible. Please note your family can still reserve a family table for both Galas, please email albirehsociety@gmail.com.
Scheduled Program
Guests are encouraged to arrive Dec 23 starting at 6:46 pm in the Osceola Convention Hall. We will host our Sahra on Friday. Please note that guests are encouraged to eat prior to the Sahra. We will host Family Feud at 7pm followed by showing the movie BOYCOTT. We will also have hookah, games, tarnib/hand tournament, and more.
Dec 24th all members are encouraged to register for the Birawi Games (similar to the Squid Games minus gore). Signup starts at 9:00am. Games will take place 10am-2pm. Winner will be announced at the Gala, with a cash prize!! All members are encouraged to join us for working general assembly meetings (1-3pm) and learning about non-profits in Al-Bireh. Our Ahla Wa Sahla Gala, traditionally held on Friday night but this year is on Saturday, doors will open at 6:00 with food served at 6:15pm. All guests that did not RSVP a VIP table are encouraged to arrive early. All members must be present to seat. If you would like to reserve a VIP table please email albirehsociety@gmail.com. Tables will be reserved for two nights. We will start the buffet and allow our members to mingle/reconnect with guests during this time. Kids program will start at 6:00 pm after they get their food.
We will kick off the convention with a fashion show, comedy program by fellow Birawi Tarek Muhammed, birawi awards and more! Please note that if you didn't submit a Birawi Award there is still time. Outstanding Birawi nomination is closed. We end with a special performance with Mohannad Khalaf concert. We also have a comedy tour that will take place around 11pm by Amer Zahr (tickets will be sold separate from ABS Program).
Our Sunday program starts with a light breakfast at 8:45 am. Our guests are encouraged to come on time. Our programs will start sharply at 9:00am. Programs start at 10-4pm. There is a ABS Kids Camp for kids ages 0-12. Please see our program for details. All our guests are encouraged to participate in these innovative sessions. Our Main Gala doors will open promptly at 6:00pm. Our keynote speaker is the award winning journalist from Al Jazeera Walid Al Omari which will begin at 7pm. We will follow this by announcing our scholarship winners and outstanding Birawi awards. We will end the evening with sahja, dabke and another night with Mohannad Khalaf. Its going to be an amazing program
Kids Programs
There will be interactive kids programs for Under 5 age group and over 6-12. There will be inflatables, interactive programs, games, video games, painting, art station, and more. Kids Programs for both age groups are $25 per child for Saturday 1-4 and Sunday 10-12 and 1-4pm.  For the Ahla Wa Sahla Gala and Main gala the kids programs are FREE. There will be face painting, games, prizes and more. All kids are encouraged to grab food from the buffet and bring it back to the kids rooms which are located in Kissimee and Osceola A&B.
Venue, Directions and Parking
The convention will take place at the Omni Orlando Championsgate Resort (1500 Masters Blvd, Championsgate, FL 33896.
There is a charge for parking unless you registered before Aug 1. All members are encouraged to stay at the hotel. If you made reservations after Dec 9th, hotel rates will differ from discounted ticket prices. Please make sure you have your hotel reservations. If you need further assistance please call the Omni directly (407) 390-6664 and tell them you are with the Al-Bireh Society Convention.
COVID Safety
We made a conscious decision to host this event with an outdoor possible venue in order to minimize the risk of COVID-19 on our guests. Our event is indoors for but we encourage all our guests who are experiencing symptoms of COVID-19 or feeling ill, we encourage you to stay home. Masks will be available at registration/check-in for those who would prefer to use one.
Weather 
While we have been experiencing exceptionally cold weather this week, the forecast calls for a much cooler day Friday- Monday with an average around 50. We will attempt to provide limited heating for outdoor activities, and we appreciate everyone's understanding of the unique challenges of having such unusually cool weather on the day of the event.
Recommended Attire
For the Alha Wa Sahla Gala (Saturday, Dec 24th at 6pm) we recommend our guests to wear traditional attire or cocktail attire. For the Main Gala (Sunday, Dec 25th at 6pm) we recommend our guest to wear traditional for formal attire. We encourage all our guests to dress warmly for all other activities, especially if they are outdoors. For our Sahra feel free to bring your own blanket (not from the hotel).
THANK YOU!
With out your participation and support the Al-Bireh Society would not have made it for over 40 years. Thank you for being part of such an amazing event. We can't wait to see you later this week.
Questions or concerns please contact us at albirehsociety@gmail.com